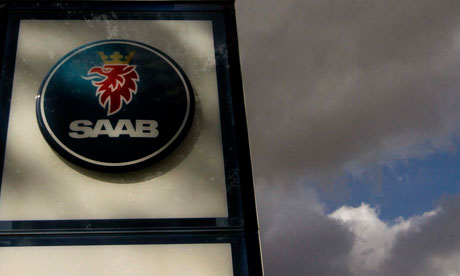 Last week, the company said it was too short of cash to make the payments.
A Chinese company has provided a lifeline for Saad Automobile with a price order for almost 600 cars and enough cash to pay the wages of its 3,800 workers this month and make some payment to suppliers.
Now it has said that the pre-payment on a 13m euro ($18m; £12m) order for 582 Saab vehicles would give it the short-term funding it needs.
Last week the work force was told there was not enough money to pay wages. The order price works out at an average of £19,486 per car compared the current lowest price in Britain of £21,50-5 for a Saab 9-3 SE 2.0/t saloon
Saab said it will also be able to make some payments to suppliers but would not yet be able to resume production.
Saab did not identify the Chinese buyer.
Earlier this month, Spyker said it had reached a deal with two Chinese firms to invest a total of 245m euros ($350m; £218m) in Saab.
"I am pleased to announce this agreement, as it secures part of the necessary short-term funding for Saab Automobile and allows us to pay our employees' wages before the end of this month," said Victor Muller, head of Saab's owner Spyker Cars, which has just renamed itself Swedish Automobile.
However, bankruptcy looms over the business. The IF Metall union said it would continue with filing a payment request to Saab for production workers this week, while the Swedish Enforcement Authority said it had received its biggest claim yet from International Automotive Components, a parts supplier seeking 45m kronor (£4.4m).