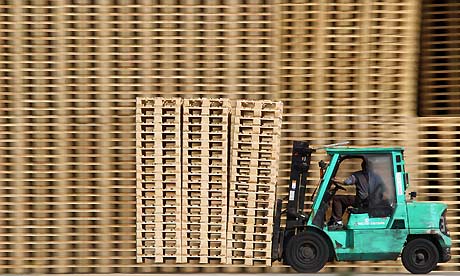 Growth in the German and French economies has surged thanks to strong business investment and consumer spending.
The German economy grew at an impressive 1.5% in the first three months of 2011, while France grew by 1%, the most since early 2006. In contrast, the UK grew 0.5% in the same period.
"As our economy has flatlined with zero growth over the last six months countries like France, Belgium, the Netherlands and even Spain have overtaken us while Germany is powering ahead." said Ed Balls, Labour's shadow chancellor.
He said the figures "show the huge risks Osborne is taking in Britain by making a political choice to cut further and faster than any other major economy in the world. He doesn't seem to understand that without strong growth and more people in jobs, paying taxes rather than claiming benefit, it's harder to get the deficit down".
Greece, which is struggling under the terms of a €110bn (£97bn) bail-out (
Click here
to read about it), shocked analysts by posting growth of 0.8pc, its first economic expansion for about three years. However, that came after a massive 2.8% drop in the previous quarter.
Spain - striving to differentiate itself from nations which have needed a bail-out - reported paltry 0.3% growth, while Italy grew just 0.1%.
The European Commission, releasing its twice-yearly annual forecast, raised its inflation expectations for the eurozone this year to 2.6pc, compared to its 2.2pc interim prediction in February.
"The main message in our forecast is that the economic recovery in Europe is solid and continues, despite recent external turbulence and tensions in the sovereign-debt market," said Olli Rehn, European Commissioner for economic and monetary affairs. "It's now important to strengthen these trends of growth."
The euro climbed as markets bet that the stronger than expected performance meant the European Central Bank will soon raise interest rates again to rein in inflation, despite the debt crisis still afflicting the eurozone's weaker nations.