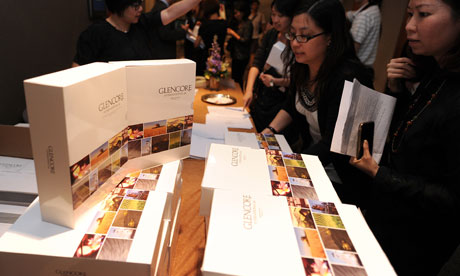 Shares in the commodities trading giant Glencore ended right where they started on the first day of conditional - or "grey" - trading in London.
They closed at the same price as they opened - 530p - although at one point they rose as much as 4% to 548p.
Van Glasenberg, chief executive, remains the company's single largest shareholder with a 15.7pc stake worth in excess of $1.5bn. Five other top executives became billionaires by the deal, along with 485 millionaires.
It was expected to raise about £6.8bn, making it London's largest initial public offering.
Glencore's valuation means it is expected to be fast-tracked into the FTSE 100 index at the end of its first day of full trading on 24 May - only the third time that has happened in the index's history.
Glencore is also selling shares in Hong Kong, which have been priced at 66.53 Hong Kong dollars per share.
Glencore's directors and employees still hold about 83.1% of the company, making them extremely wealthy on paper.